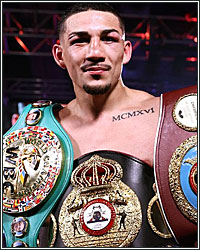 As things are turning out, Teofimo Lopez will be following his October, 2020 breakthrough victory over Vasiliy Lomachenko with maybe more than a year of buzz-killing inactivity due to– depending on who you ask– either a Covid-19 infection or a poorly-received mandatory title defense against Aussie George Kambosos Jr. 
But, any way you slice this, it's all one, massive lose-lose for the 23-year-old Brooklynite.
For awhile, though, Lopez was on quite the run. After bathing in pure glory post-Lomachenko, he scored a victory after THE victory when he maneuvered his way around his Top Rank deal to strike a one-fight agreement with spend-in-the-red online entertainment platform, Triller. The savvy move to kick negotiations down the road until Triller could out-bid everyone during an obligatory IBF purse bid was due to deliver him a nearly $4 million purse– more than double what Top Rank was willing to pay– for a bout many felt would be easy work.
Then, June 15, just four days before he was set to beat the vegemite and kangaroo paste out of Kambosos, news broke that Lopez had tested positive for Covid-19 and the fight was off.
On his verified Twitter account, Lopez wrote about pulling out:
"Being a champion means doing hard things. NO EXCEPTIONS. And I choose to keep my fellow athletes safe…I believe I am doing the right thing. I don't want to infect anybody."
Pretty odd, since it's not like he had any say so in the fight being canceled. Whether he wanted to go on or not, the fight was off.
The sudden cancellation and general timing of the pull-out caused some people to wonder whether this Covid stuff was all just an excuse to nix a pay-per-view built around a perceived mismatch on a night absolutely jam-pocked with boxing action. On June 19, fight fans could've opted for the Jaime Munguia card on DAZN, Jermall Charlo-Juan Macias Montiel on Showtime, Naoya Inoue on ESPN, and The Chavez Jr.-Anderson Silva/Chavez Sr.-Camacho Jr. card on pay-per-view. It's hard to imagine a $50 Teofimo squash doing much business. 
The Kambosos fight was pushed back to August 14. Then, it was reportedly pushed back again to September 11 as a co-main event on the card headlined by the Oscar De La Hoya-Vitor Belfort exhibition. Now, it looks like it might be pushed back to an even later date. 
"I've been told by people close to Lopez that he is still very sick and that he's still dealing with the effects of Covid-19," DAZN commentator Chris Mannix said on the DAZN Boxing Show.
"So whenever he actually gets over it, he's probably going to need a month-and-a-half, two months of a training camp to get back into shape…People have kind of pinpointed September 11th as the date for Lopez-Kambosos — don't count on it."
Lending credence to the "he really is sick" side of things, Triller founder Ryan Kavanaugh said in a June 18 interview that he spoke to Lopez and that the young fighter, who also suffers from asthma, was very much struggling with the infection, posting a 102 degree fever and a low 90-percent oxygen level. Lopez's pregnant wife is also infected and symptomatic. 
Of course, if illness and not lagging sales is the culprit behind this career stall, it begs the question of why Lopez allowed himself to remain vulnerable to the virus as the Covid vaccines lead the way to the full re-opening of America.
Promoter Bob Arum was thinking along this same line when he spoke to members of the media just after the Lopez Covid cancellation. 
"We tell all our fighters 'you guys are fighting for big money and promoters are laying out big money– get yourself vaccinated so you don't contact the Covid," Arum said. 
"Now Teofimo, he was off with this Triller thing and so forth. There was no reason why before he went into training that he didn't get vaccinated. No reason! And if he had gotten vaccinated he wouldn't have lost this payday.
"…Now, with the vaccination, anybody who gets Covid– shame on them. Shame on them because they haven't taken the time or they haven't, for some crazy reason, decided to get vaccinated. That's nuts!"
Arum has a point. With events like this, there are a lot of much-needed paydays for fighters, corner men, site technicians, etc. at stake. If Lopez is one of those people who thinks the vaccines have nanobot tracking devices or secret mind control components, he could've, at the very least, been careful about associating with the unprotected in the days and weeks prior to the fight. This mega-fail is no different than a fighter choosing to engage in high-risk physical activities days before a bout. Teo screwed up. 
And now he pays for the screw up with lots of time lost. 
The no-big-deal, quick money score versus Kambosos now becomes a real logistical drag as rescheduling of the mandatory defense awaits Teofimo's full recovery and has to wrap around the pregnancies of both fighters' wives, as well as growing concerns over the Covid-19 Delta variant. Hopes of staging a big-money pay-per-view before the end of the year are out of the question. It would be better if he were faking Covid.
Things didn't have to be this way, but now they are…and now everyone waits. Lost, however, is some precious star-building time in the immediate aftermath of the Lomachenko win. 
Teofimo will recover and eventually pick up where he left off. He'll likely move on to be an even bigger star. But a year lost from a fighter's ring life is always a big deal because future and longevity in the boxing business is never guaranteed.